Please note all times listed are Saskatchewan time. Find your time zone here: https://dateful.com/time-zone-converter
Indigenous stories are fundamental to the teachings, ceremonies and ways of life of Indigenous people. Indigenous storytelling, focused on the teachings of culture, ceremonies and spirituality, are not viewed as entertainment but as messages. The stories can be funny, sad, scary or disturbing. They may not all have happy endings and they must remain as true to their origins as possible.
Melissa will discuss a brief history of quillwork and beadwork. How we use our arts like quillwork and beadwork to tell stories of who we are and the connections we have to the land, family, and spirituality.
To register, visit https://us02web.zoom.us/webinar/register/WN_ZyQsBFyfTlaS8BImLFrsYA
Presenter: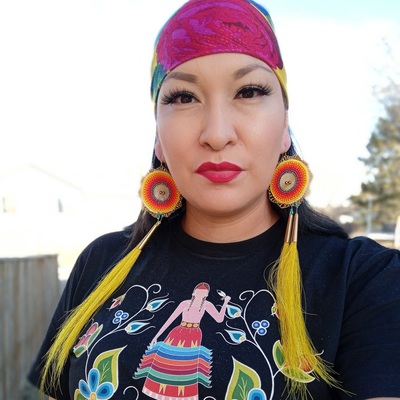 Melissa Worme is a gifted performance artist from Kawacatoose First Nation in Saskatchewan. She is a respected Nehiyaw (Plains Cree) woman within her family and community. She has gained recognition for her talents as a storyteller, actress, singer, fancy shawl dancer, bead worker, quillwork, Regalia designer and seamstress.
She offers different classes that include beadwork but she also talks about a brief history and teachings that she was given as she learned; Quillwor, along with history and teachings; Ribbonskirts, with woman teachings; Mossbags, with traditional parenting and teachings; and Powwow dance classes for beginner students, with teachings on the different dances.
Host: Janelle Pewapsconias
---
Funding provided by:


In proud partnership with: