The Business and Craft of Writing
Freelance, the SWG's quarterly member's magazine, is provided free to all SWG members in good standing, either as an electronic or hard copy. Freelance features articles on the craft and business of writing, along with information on SWG programs, industry news, monthly literary events, members' new books, and much more.
We pay writers to contribute
Each issue of Freelance features articles written by SWG members or writers with magazine writing experience. Contributors are paid 20¢ per word and either write on a topic of their choice or one suggested by the editor. All articles are on the craft or business of writing and are either a 1500 or 800 word count. If you have written for magazines before, or want to try your hand at it, you are eligible to contribute.
Pitch us your ideas
If you have a story idea you would like to be considered for Freelance please submit a pitch to the editor.
Pitches should include:
Up to 300 words describing what the piece will be about and how you will present the information (ie: Q&A, interviews, humour, multiple issue series...) plus details that you think are relevant. Please also include why this topic is important to you and what makes it something that you want to write about.
Writer's name, contact information
If you've never written for Freelance before, please include a short description of your qualifications (ie: past magazine writing experience, subject expert, want to gain experience...)
Submit your pitch by email only to the Freelance Editor at swgmedia@skwriter.com.
Member news
SWG members are encouraged to contact us to let us know about news in their world so that we can include it in Freelance. We want to hear from you when you have:
a new book to announce;
a book launch event taking place;
a book reading your doing;
a workshop or event you're hosting; or
anything else you want to share with other SWG members.
Email your news to swgmedia@skwriter.com
Advertising rates and sizes
Freelance reaches over 600 SWG members four times a year. The audience is made up largely of emerging and professional writers and authors in Saskatchewan. If this is your target audience, please contact us.
The following advertising rates apply for placement in one issue. A 15% discount is available for ads placed in four consecutive issues of Freelance. SWG members receive a 25% discount. All rates are subject to G.S.T
Black and White Ad Rates
Full page ( 7.5" x 10") - $150
Half page horizontal (7.5" x 4.75") - $100
Quarter page (3.75" x 4.75") - $50
Business card size (3.75" x 2.25") - $25
For colour ads - above price x 2
Current issue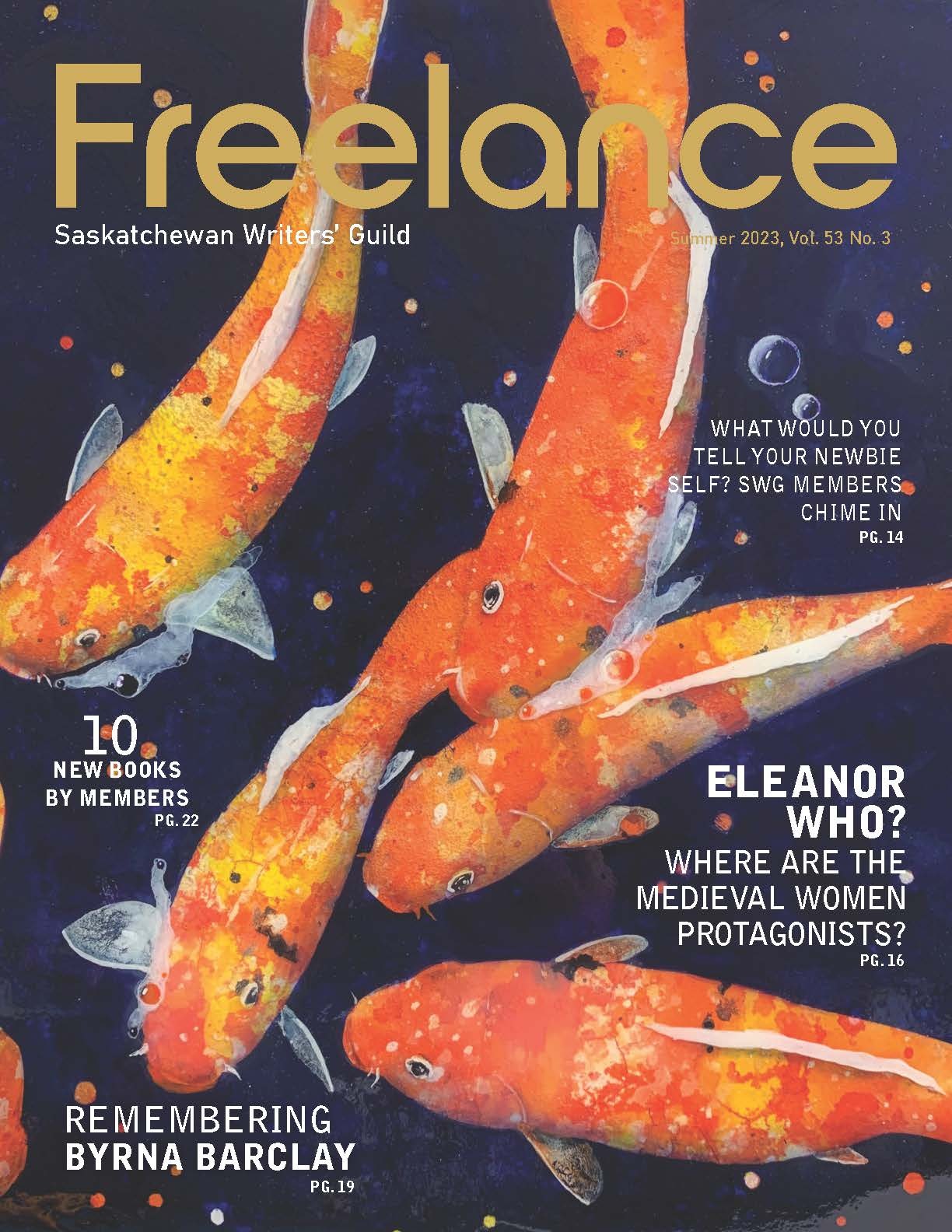 Summer 2023, Vol. 53 No.3
---
For more information, please contact:
Publications Coordinator
T: 306.791.7744 | E: swgmedia@skwriter.com