Award Winning Literary Quarterly
Grain Magazine publishes engaging, eclectic, and challenging writing and art by Canadian and international writers and artists.
Published by the SWG, Grain has earned national and international recognition for its distinctive content. No bias in terms of form, style, or genre, and the editors welcome submissions that are diverse, idiosyncratic, intelligent, even idea- or concept-driven. The editors accept poetry, fiction, and literary nonfiction.
Grain has an nine month submissions period which runs from September 15 to June 15 each year. For subscription information, submission guidelines, contest rules, or to read a selection from our current issue, please visit Grain online at grainmagazine.ca
We thank Cheryl & Henry Kloppenburg, Barristers and Solicitors, Saskatoon, for their ongoing support of Grain and the Short Grain Writing Contest.
Current Issue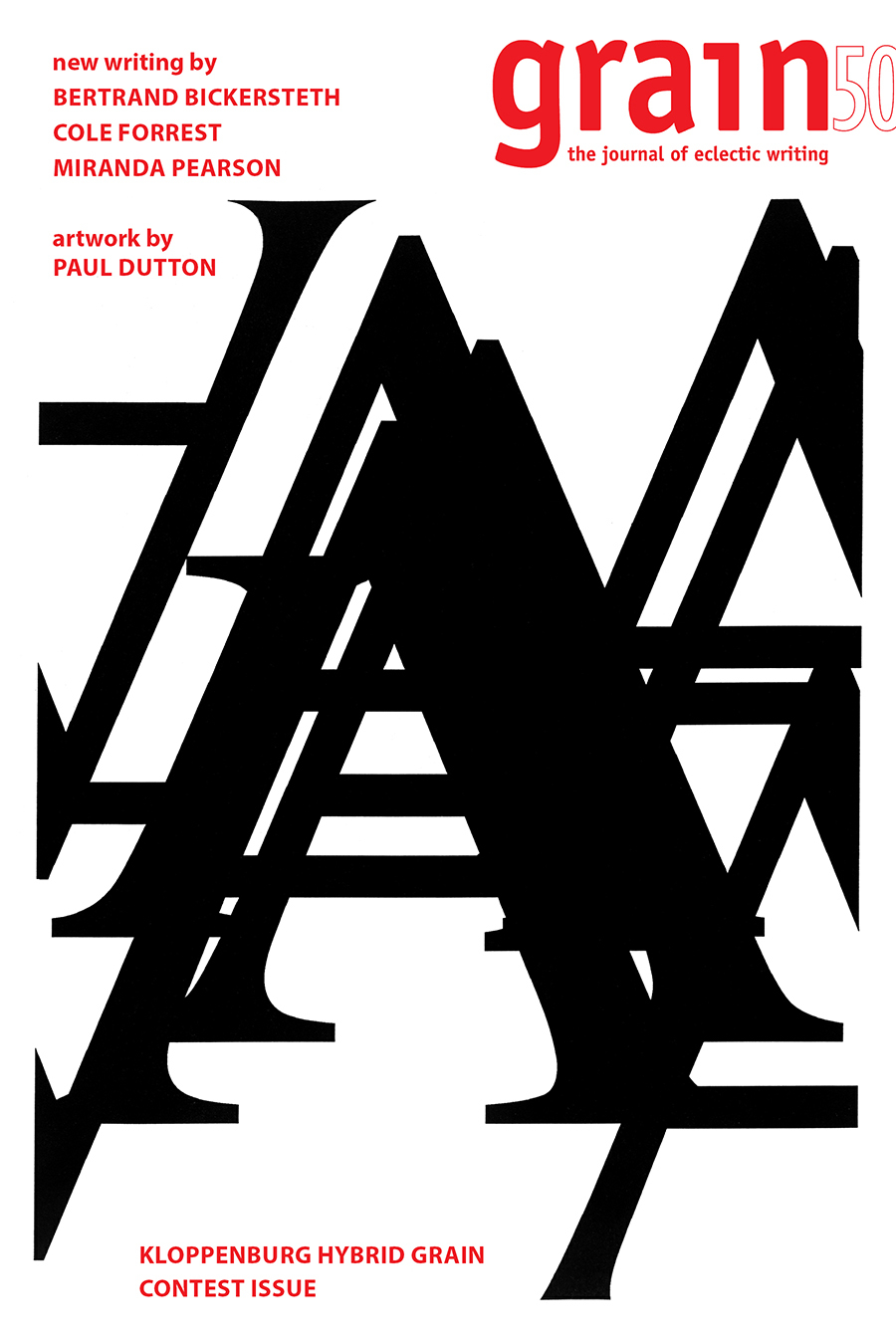 Grain, Vol. 50.3
Spring 2023
Kloppenburg Hybrid Winners Issue
Cover art by: Paul Dutton
Advertising rates and sizes
Grain reaches intelligent, creative individuals who have an appreciation for literature and culture. Over 80% of Grain's subscribers are writers themselves. Advertisements in Grain reach nearly 10,000 readers annually!
Ad Rates and Sizes
Full page, 4 1/4" (4.25 in) x 7 7/16" (7.4375 in), $225
1/2 page Horizontal, 4 1/4" (4.25 in) x 3 5/8" (3.625 in), $150
1/2 page Vertical, 2 1/16" (2.0625 in) x 7 7/16" (7.4375 in), $150
1/4 page Horizontal, 4 1/4" (4.25 in) x 1 3/4" (1.75 in), $100
1/4 page Vertical, 2 1/16" (2.0625 in) x 3 5/8" (3.625 in), $100
To book your ad in Grain, contact us to confirm our advertising deadlines. All ad prices are subject to GST.
Specifications: All ads are black and white at 300 dpi. PDF, JPEG and TIFF formats are accepted. Ads can be submitted via e-mail to grainmag@skwriter.com. Please note we require "PRESS-READY" ads.
Advertising deadlines:
Booking Deadlines:
Fall issue (Short Grain Contest issue) - June 15
Winter issue - September 15
Spring issue - December 15
Summer issue - March 15
Materials Deadlines:
Fall issue (Short Grain Contest issue) - July 15
Winter issue - October 15
Spring issue - January 15
Summer issue - April 15
---
For more information on subscriptions, or to purchase a copy, please contact:
SWG Administrative Assistant
T: 306.791.7740| E: info@skwriter.com