The Saskatchewan Writers' Guild and Cheryl & Henry Kloppenburg are proud to announce that the winner of the 2022 Cheryl and Henry Kloppenburg Award for Literary Excellence is Candace Savage. The award were announced publicly by Cheryl and Henry Kloppenburg on September 28 at 1:30 p.m. The award honours a Saskatchewan writer who has written a substantial body of acclaimed literary work and has had a significant impact on writing in Saskatchewan. It carries a prize of $10,000 and a framed limited edition print of a painting by well-known Saskatchewan artist Dorothy Knowles.
Candace Savage was born in the Peace River Country of northern Alberta and educated at the University of Alberta. She is the award-winning author of more than two dozen books including A Geography of Blood, which won the Hilary Weston Writers' Trust Prize for Nonfiction, and Prairie: a Natural History, winner of the Saskatchewan Book of the Year Award. A Fellow of the Royal Society of Canada and the Royal Canadian Geographical Society, she was inducted into the Honor Roll of the Rachel Carson Institute, Chatham College, in Pittsburgh in 1994. In addition to her work as a writer, she is a member of both the Saskatoon Fiddle Orchestra and Le Choeur des Plaines and also chairs Wild about Saskatoon's NatureCity Festival. She lives in Saskatoon, Saskatchewan.
In choosing Candace, the jury for the 2022 Award cited the following: "Candace Savage, one of Canada's foremost non-fiction writers, is a richly deserving recipient of the Cheryl and Henry Kloppenburg Award for Literary Excellence. Over more than four decades, she has published and continues to publish, a wide and eclectic range of books for adults and children. Candace has an uncanny ability of distilling complicated ideas and issues into clear and engaging prose, alternating delighting and challenging her reading audiences. Nor has she shied away from tough topics, but has deftly probed the underbelly of Saskatchewan. Candace's literary record, the equivalent of an established artist's songbook or portfolio, is both substantial and admirable. And it has been recognized with several awards, including the prestigious Hilary Weston Writers' Trust Prize for Non-Fiction. Candace has also mentored aspiring writers, helping them learn the craft of writing--with an emphasis on creativity and engagement with the subject matter. Above all, her voice is consistently powerful, forcefully backed by her words and books."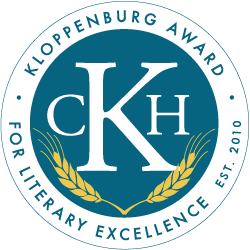 Cheryl and Henry Kloppenburg, lawyers and philanthropists who enjoy supporting visual and literary arts, established this prestigious award in 2010. The three Honorary Patrons of the Award are His Honour the Honourable Russ Mirasty, Lieutenant Governor of Saskatchewan; His Worship Charlie Clark, Mayor of the City of Saskatoon; and President of the University of Saskatchewan, Dr. Peter Stoicheff. The Kloppenburg Award for Literary Excellence is one of the most lucrative provincial awards in Canada.
The video announcing Candace Savage as the 2022 Kloppenburg Award winner is on our YouTube Channel.
For additional Award background information, including a full list of previous winners, please visit www.skwriter.com.