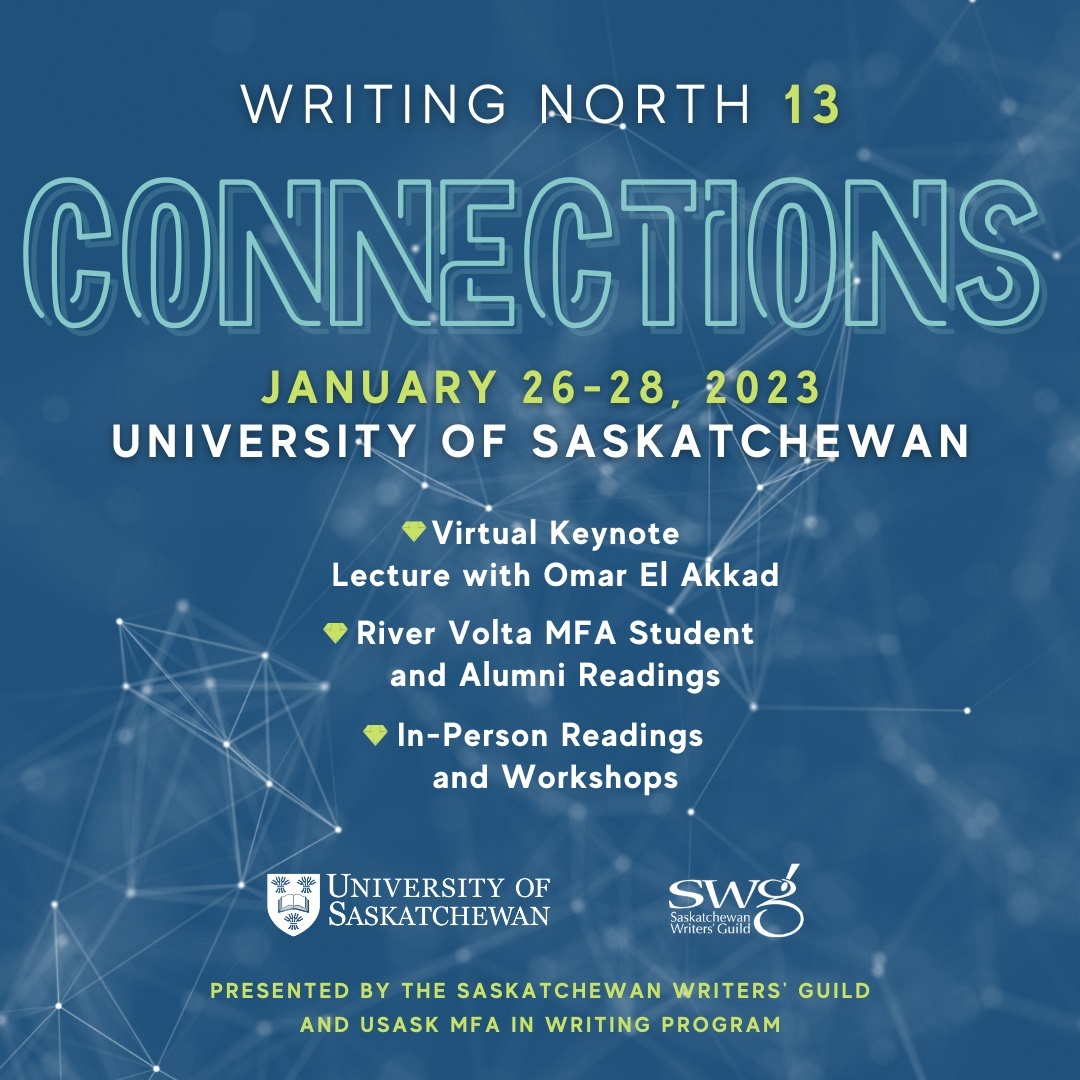 The Saskatchewan Writers' Guild and the University of Saskatchewan's MFA in Writing Program are pleased to present Writing North 13: Connections.
This year's festival will be held January 26-28, 2023. All events are open to the public free of charge and all are welcome.
Our festival will be held in-person at St Andrew's College's at 1121 College Dr, University of Saskatchewan in Saskatoon, This is a physically accessible location on a bus route. Omar El Akkad's keynote lecture will be available via Zoom and on our YouTube channel for 30 days post-festival.
NEW - Due to unforeseen circumstances, we are no longer able to offer livestreaming or recording at Writing North 13. We apologize to all of our virtual audience members.
All Writing North events will still go forward as planned so if you are able to join us in-person in Saskatoon at St. Andrew's College Main Lounge this evening and Saturday, we would love to see you.
We will be offering presenter books for sale Friday evening and Saturday (cash and credit).
Schedule
Thursday, January 26

Time

Keynote address

"Before and After the Writing: Plotting, Structure and Revision" with Omar El Akkad, hosted by Kate O'Gorman

7:00 pm - 8:15 pm

(virtual only)
Friday, January 27
Time

River Volta MFA Student and Alumni Readings & Reception

Featuring readings by Red Davis, Delane Just, Ashley Lekach, Walker Pityn, Callum Wilson, Karen Wood.

Hosted by Josiah Nelson and Dawn Muenchrath

Book Table open

7:00 pm - 9:00 pm

(in person ONLY)
Saturday, January 28

Time

Doors open

Book Table opens

9:30 am

Reading and Conversation with Russell Wangersky and host Marina Endicott

10:00 am - 10:45 am

(in person ONLY)

Prose Workshop

"Truth and Consequences: The Intersection Between Fact and Fiction" with Russell Wangersky

11:00 am - 1:00 pm

(in person only)

Break

Book Table reopens at 2:30 pm

1:00 pm - 3:00 pm

Reading and Conversation with Cecily Nicholson and host Khodi Dill

3:00 pm - 3:45 pm

(in person ONLY)

Poetry Workshop

"Understory Poems" with Cecily Nicholson

4:00 pm - 6:00 pm

(in person only)
Thank you to our festival sponsors: