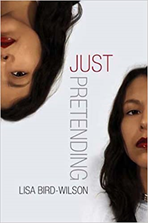 LISA BIRD-WILSON
Just Pretending, Coteau Books (April 1, 2013)
A powerful short story collection from Cree-Métis author Lisa Bird Wilson. A nitanis (daughter) invents the mother she never knew. A fourteen-year-old girl struggles to come to terms with her feelings of abandonment. A young man struggles with his Mooshum's imprisonment in a damaged body and what it means for his own Métis identity. A department store clerk falls for a homeless man who woos her with Heart of Darkness. At the centre of these stories are notions of identity and belonging, and the complex relationships between children and parents, both those who are real and those who are just pretending.
---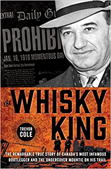 TREVOR COLE
Whisky King, HarperCollins Publishers (April 11 2017)
With original research and masterful storytelling, Cole details the fascinating rise to power of a notorious Prohibition-era Canadian crime figure twinned with the life of the man who pursued him.
---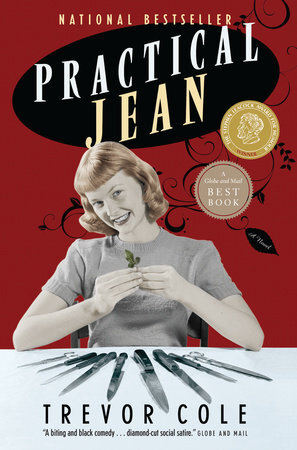 TREVOR COLE
Practical Jean, Emblem Editions (Sept. 6 2011)
In his first two, GG-shortlisted novels, Trevor Cole proved himself a master of drawing us into the shadowy side of human nature with sharp observation and warm wit. In Practical Jean, he goes a step further: this is a darkly humourous and revelatory tale of an ordinary, small-town woman with the usual challenges of middle age — a do-nothing husband, a family that refuses to understand her — who realizes her fondest wish is to protect her dearest friends from the indignities of aging and illness. And that's when she decides to kill them . .
---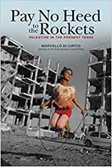 MARCELLO DI CINTIO
Pay No Heed to the Rockets: Palestine in the Present Tense, Goose Lane Editions (April 10, 2018)
In Pay No Heed to the Rockets, Marcello Di Cintio reveals the Palestinian experience as seen through the lens of authors, books, and literature. Using the form of a political-literary travelogue, he explores what literature means to modern Palestinians and how Palestinians make sense of the conflict between a rich imaginative life and the daily tedium and violence of survival. In his travels through Palestine, he uncovers a humanity, and a beauty, often unnoticed by news media. Pay No Heed to the Rockets tells a fresh story about Palestine, one that begins with art rather than war.
---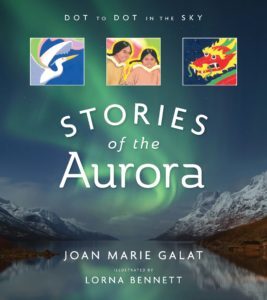 JOAN MARIE GALAT
Stories of the Aurora, Whitecap Books (Oct. 10 2016)
Like the rest of the books in this series, Stories of the Aurora contains all the scientific facts a child should know about this beautiful phenomenon in the night sky. Beautifully illustrated by Lorna Bennet, it also chronicles the many legends surrounding the event including tales of the afterlife from the Inuit, a European & Mi'kmaq fairy tale and even a story from the ancient Romans on what an Aurora could possibly mean. These tales and more make this a one-of-a-kind book on this incredible phenomenon in the Canadian sky.
---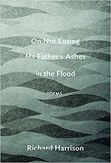 RICHARD HARRISON
On Not Losing My Father's Ashes in the Flood, Bukrider Books (Oct. 4, 2016)
The great Alberta flood of 2013 slides through Richard Harrison's latest collection, its rising waters pulling his books of poetry off their shelves, washing the ink from letters kept in boxes in the basement and threatening to carry off his father's ashes. On these waters float Harrison's mourning for his father, who suffered a form of dementia later in life but never forgot the poems he'd memorized as a young man. Combining elements of memoir, elegy, lyrical essay and personal correspondence, On Not Losing My Father's Ashes in the Flood is a generous and enchanting book, one that leaves you, like the poet, thinking about the way "characters in a novel can escape anything / except their story."
---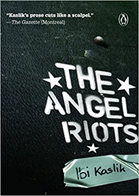 IBI KASLIK
The Angel Riots, Penguin Canada (March 11, 2008)
Ibi Kaslik takes readers backstage with up-and-coming Montreal band The Angel Riots on their American tour. The band's story unfolds through the eyes of Jim, a small-town violin prodigy who struggles with her past as well as her present; and Rize, an emotionally charged trombone player who is stuck playing sidekick to his best friend, charismatic lead singer Jules. As the band's popularity mounts, the pressures of road-life and success begin to complicate relationships and The Angel Riots' chaotic world threatens to implode. Dark and dazzling, this novel will firmly establish Kaslik's reputation as a young literary talent.
---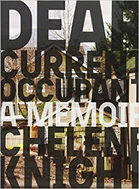 CHELENE KNIGHT
Dear Current Occupant, Book*hug Press (March 1, 2018)
A creative non-fiction memoir about home and belonging set in the 80s and 90s of Vancouver's Downtown East side, Knight reflects on her childhood through a series of letters addressed to all of the current occupants now living in the twenty different houses she moved in and out of with her mother and brother. From blurry non-chronological memories of trying to fit in with her own family as the only mixed East Indian/Black child, to crystal clear recollections of parental drug use, Knight draws a vivid portrait of memory that still longs for a place and a home.
---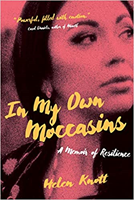 HELEN KNOTT
In My Own Moccasins, University of Regina Press (March 3, 2020)
An unflinching account of addiction, intergenerational trauma, and the wounds brought on by sexual violence In My Own Moccasins is also the story of sisterhood, the power of ceremony, the love of family, and the possibility of redemption. With gripping moments of withdrawal, times of spiritual awareness, and historical insights going back to the signing of Treaty 8 by her great-great grandfather, Chief Bigfoot, her journey exposes the legacy of colonialism, while reclaiming her spirit.
---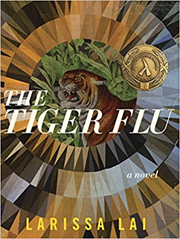 LARISSA LAI
The Tiger Flu, Arsenal Pulp Press (Sept. 1, 2018)
A community of parthenogenic women, sent into exile by patriarchal and corporate Salt Water City, go to war against disease, technology, and an economic system that threatens them with extinction. Kirilow is a doctor apprentice whose lover, Peristrophe, is a "starfish," a woman who can regenerate her own limbs and organs, which she uses to help her clone sisters whose organs are failing. When a denizen from Salt Water City suffering from a mysterious flu comes into their midst, Peristrophe becomes infected and dies, prompting Kirilow to travel to the city, where the flu is now a pandemic, to find a new starfish who will help save her sisters. There, Kirilow meets Kora, a girl-woman desperate to save her family from the epidemic. Kora has everything Kirilow is looking for, except the will to abandon her own family. But before Kirilow can convince her, both are kidnapped by a mysterious group of men to serve as test subjects for a new technology that can cure the mind of the body.
---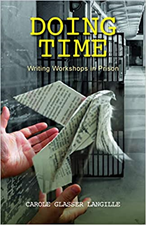 CAROLE GLASSER LANGILLE
Doing Time, Pottersfield Press (Jan. 28, 2020)
Poetry can address our most intimate, frightened, hopeful selves. Langille found this to be true as she introduced poems to men and women in prison and gave writing assignments based on the discussions these poems inspired. Over and over, participants shared private moments of self-awareness. The support they gave each other and the stories they told were profound. This book puts to rest many of the myths we have about inmates. It confirms both that people cannot be reduced to their worst deeds and that creative expression has a central place in the process of rehabilitation. Most pointedly, Langille's work reveals how, by failing the men and women behind bars, the prison system harms us all.
---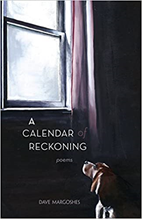 DAVE MARGOSHES
A Calendar of Reckoning, Coteau Books (May 15, 2018)
With careful attention to detail, and evocative turns of phrase, Dave Margoshes introspectively looks back on youth. Intriguing metaphors, reminiscent of pastoral imagery, create a sharp contrast between the heavy subject matter of one's own mortality, and the beautiful, evocative comparisons between humanity and the rest of the animal kingdom, particularly birds and trees. Darwin's Theory of Evolution, is juxtaposed with the desire to give in to temptation, and become one with the world, as Margoshes makes most evident in his final poem, "Wisdom", a fitting end to a collection that would have the reader struggling between reconciling their past and present.
---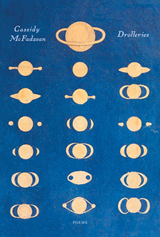 CASSIDY MCFADZEAN
Drolleries, McClelland & Stewart (March 26, 2019)
Drolleries veers between the beasts of the forest and the opulence of the art gallery. Personal and historical struggles are held against the backdrop of the grotesque and fantastic: A marriage unravels in Goya's Black Room. The diagnosis of a blood-clotting mutation is read through the tarot. The violence of the patriarchy is filtered through the subconscious. In sonically rich lyric poems that traverse the vulnerability of confession and the dramatic possibilities of persona, Drolleries invokes its monsters as a means of working through internal turmoil, existential doubt, and heartbreak. This collection investigates how the lure of romantic relationships, the enchantments of art, and the seductions of power can be both destructive and transformative - and ultimately become a pathway to self-realization.
---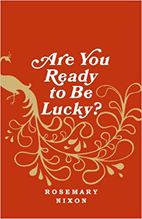 ROSEMARY NIXON
Are You Ready to Be Lucky? Freehand Books (Aug. 27, 2013)
Are you ready to be lucky? If so, meet Roslyn, a spirited divorcée eager for new beginnings. Meet Duncan, a British conman with a penchant for collecting ex-wives. Meet Floyd, a hard-living contractor who can fix anyone's house but his own. Irritating, vulnerable, hopeful, they ricochet off one another, trailing a mess of family and friends, all of them trying to beat the odds and find happiness. With razor-sharp wit, Rosemary Nixon takes on the chaos and absurdity of friendship, marriage, divorce, and betrayal?and the heart-pounding, breathtaking, always astonishing complexities of luck and love.
---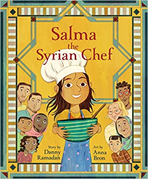 DANNY RAMADAN
Salma the Syrian Chef, Annick Press (March 10, 2020)
All Salma wants is to make her mama smile again. Between English classes, job interviews, and missing Papa back in Syria, Mama always seems busy or sad. A homemade Syrian meal might cheer her up, but Salma doesn't know the recipe, or what to call the vegetables in English, or where to find the right spices! Luckily, the staff and other newcomers at the Welcome Center are happy to lend a hand—and a sprinkle of sumac. With creativity, determination, and charm, Salma brings her new friends together to show Mama that even though things aren't perfect, there is cause for hope and celebration. Syrian culture is beautifully represented through the meal Salma prepares while the diverse cast of characters speaks to the power of cultivating community in challenging circumstances.
---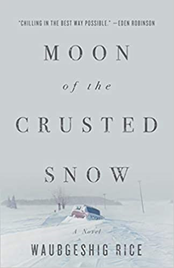 WAUBGESHIG RICE
Moon of the Crusted Snow, ECW Press (Oct. 2, 2018)
With winter looming, a small northern Anishinaabe community goes dark. Cut off, people become passive and confused. Panic builds as the food supply dwindles. While the band council and a pocket of community members struggle to maintain order, an unexpected visitor arrives. Soon after, others follow. The community leadership loses its grip on power as the visitors manipulate the tired and hungry to take control of the reserve. Tensions rise and, as the months pass, so does the death toll due to sickness and despair. Frustrated by the building chaos, a group of young friends and their families turn to the land and Anishinaabe tradition in hopes of helping their community thrive again. Guided through the chaos by an unlikely leader named Evan Whitesky, they endeavor to restore order while grappling with a grave decision.
---
EUGENE STICKLAND
The Piano Teacher, BHouse Publications (2015)
A reclusive and eccentric concert pianist is drawn back into the real world when he agrees to give piano lessons to a seven-year-old girl, while at the same time preparing to perform the 2nd Rachmaninoff Piano Concerto.
---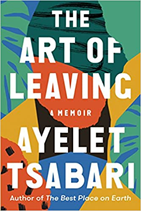 AYELET TSABARI
The Art of Leaving, Harper Collins Publishers (Feb. 19, 2019)
An unforgettable memoir about a young woman who tries to outrun loss, but eventually finds a way home. Beautifully written, frank and poignant, The Art of Leaving is a courageous coming-of-age story that reflects on identity and belonging and that explores themes of family and home—both inherited and chosen.
---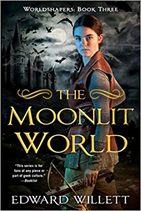 EDWARD WILLETT
The Moonlit World, DAW (Sept. 15, 2020)
Fresh from their adventures in a world inspired by Jules Verne, Shawna Keys and Karl Yatsar find themselves in a world that mirrors much darker tales. Beneath a full moon that hangs motionless in the sky, they're forced to flee terrifying creatures that can only be vampires…only to run straight into a pack of werewolves.As the lycanthropes and undead battle, Karl is spirited away to the castle of the vampire queen. Meanwhile, Shawna finds short-lived refuge in a fortified village, where she learns that something has gone horribly wrong with the world in which she finds herself. Once, werewolves, vampires, and humans lived there harmoniously. Now every group is set against every other, and entire villages are being mysteriously emptied of people.

Somehow, Karl and Shawna must reunite, discover the mysteries of the Shaping of this strange world, and escape it for the next, without being sucked dry, devoured, or—worst of all—turned into creatures of the night themselves. Beneath the frozen, gibbous moon, allies, enemies, surprises, adventures, and unsettling revelations await.