Join us Tala Tootoosis and host Bevann Fox for a special presentation for National Indigeous Peoples Day!
In conversation with host Bevann Fox, Tala Tootosis will talk about Resiliency and Blood Memory. Her work as a seamstress, social worker, speaker, poet and writer are all platforms she utilizes to help send out her message of healing and empowerment. She hopes that in sharing her message of hope in any aspect will help one person to see they have the power and choice to change their life and grow from their struggles.
This free online event is open to all.
To register, click here: https://us02web.zoom.us/webinar/register/WN_DfX25iIpQe244YS4zKJWSw
Tala Tootoosis is a 38yr old mother of 4 from Sturgeon Lake First Nation Saskatchewan, in Treaty 6 Territory. Her tribal background is Plains Cree, Nakota Sioux and Haudenosaunne, Bear Clan from Akwesasne New York. She has been a Motivational Speaker for recovery from addictions and sober from Crystal meth for 18 years. She holds a BISW (Bachelor of Indigenous Social Work Degree), has been an addictions counsellor and mental health therapist in her past career jobs. She is a recent author and published a book titled "The Awakening of a Kokum Spirit In A Young Woman" with Eagle speaker publishing.
She is a poet and does spoken word performances as well as also been published in the book blood memory with the indigenous poets' society. In the year 2013, she received the award for being a Future 40 under 40 winner. In 2007 she was given the Gold Eagle role model of the year award from her First Nation Sturgeon Lake. She is the founder of the Kokum Scarf Campaign promoting awareness of MMIW2S and creating awareness of Indigenous resiliency. She has developed a ribbon skirt workshop that has been posted on YouTube for many who have learned from and it has created a platform to initiate dialogue around rape culture and advocacy for sexual assault victims.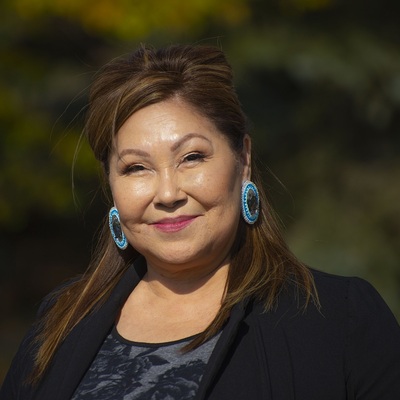 Host Bevann Fox is a member of Pasqua First Nation, originally from Piapot First Nation. In 2012. A mother and grandmother of four. She received her Bachelor of Arts in Arts and Culture and in 2018 her Master in Business Administration, Leadership from the University of Regina. In 2014 she was honoured with the YWCA Women of Distinction Award—Arts, Culture and Heritage. She is the founder, producer, and co-host of Access TV's The Four. She is a certified yoga teacher and an artist in sculpture and acrylics.
---
Funding provided by:




In proud partnership with: