Tenacity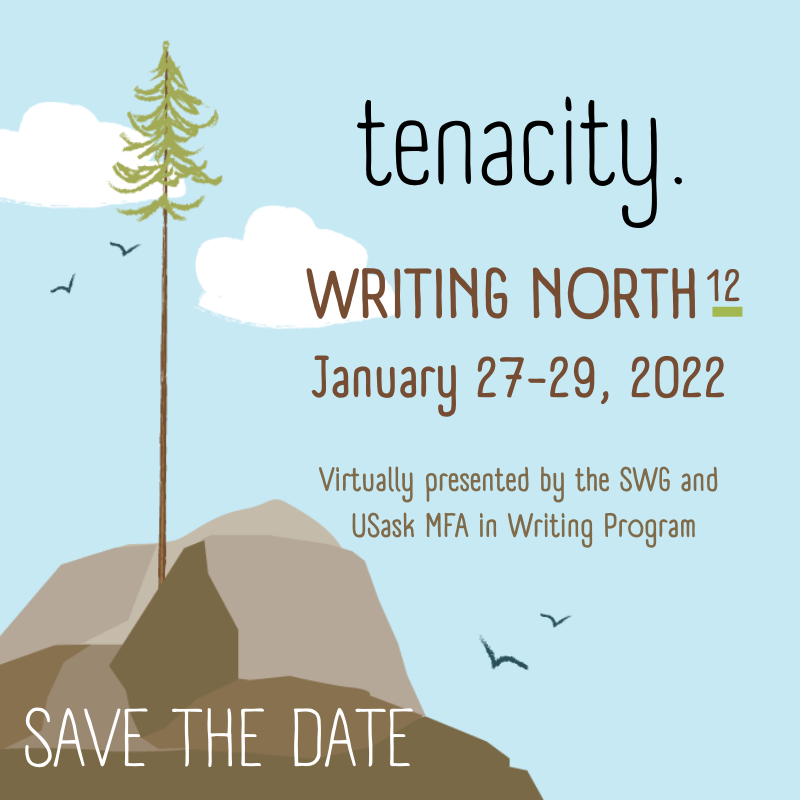 The Saskatchewan Writers' Guild and the University of Saskatchewan's MFA in Writing Program are pleased to present Writing North 12: Tenacity. Our theme this year focuses on writers and their perseverance, against all odds.
This year's festival will be held virtually between January 27-29, 2022. All events are open to the public free of charge.
Our program includes the following exciting events; registration links are included in each section. Please consider supporting our writers by purchasing their books from their publishers or your favourite local book store – links available at our Virtual Book Table – or by checking them out of your local library.
Schedule
Thursday, January 27

Time

Registration

Keynote address "On Process" with Helen Humphreys

7:00 pm - 8:15 pm
(SK Time)
Friday, January 28
Time

Registration

The Brains Backstage videos

9:00 am release time

(SK Time)

(available for 30 days)
Saturday, January 29

Time

Registration

Poetry Session with Di Brandt "Coming Apart and Coming Together: 13 Ways of Rhyming with Love in the Time of Covid"

12: 00 pm - 1:15 pm

(SK Time)

Fiction Session with Sharon Bala "Mastering Dialogue"

2:00 pm - 3:15 pm

(SK Time)

Nonfiction Session with Helen Knott "Building Your Memoir"

4:00 pm - 5:15 pm

(SK Time)
Thank you to our festival sponsors: